DIMITRA VAMIALI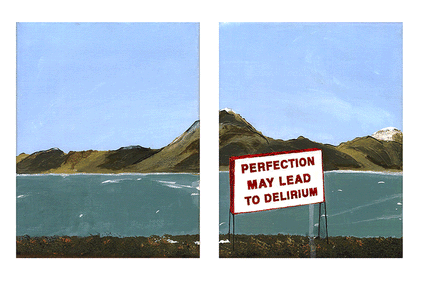 alphadelta gallery is pleased to announce the solo show of Dimitra
Vamiali. Vamiali will present an installation environment entitled
PERFECTION MAY LEAD TO DELIRIUM
which consists of:
-small scale painting diptychs
-a vinyl shed suspended few inches from the galleryÐs floor
The diptychs paintings activate as an image bank. DimitraÐs Vamiali work
has as starting point the photographic material (printed or digital)
which in this case is being developed as a collage of images and they
gain in this new combination a particular artistic approach, spontaneous
and explosive. Almost like a notebook, this unity of paintings presents
an open world, without limitations. An orgasm of images which they come
form different sources (photographs, notes, media, history of art) where
the artist elaborated with the language of painting, sometimes abstract
or figurative and sometimes realistic or imaginary. The selection of the
images as well as the replacement of natural space and light with the
painted space and the artificial light in a humorous way, almost
sarcastic, refer to the world of the contemporary image making which
comes from the landscape , natural, urban or industrial.
In the same direction the vinyl shed part of the installation entitled
"THE WELCOME SHED, MODEL I, the fresh air versionÓ, a house substitute
in smaller scale, is presented as an absurd approach of investigation of
functionality of the space and its social demands. The moment where the
expectation, the vulnerability, the imperfection and the fault are used
as elements of inspiration. A shed usually is encountered as a space of
assistance with secondary meaning, in this case with a simple gesture,
to suspend it few inches above the galleryÐs floor , is elevated as the
protagonist with exceptional position. This installation is being formed
by a series of objects and materials which consist the already known
language of Dimitra Vamiali: raw or process wood, vinyl, PVC, artificial
light from different sources, plastic flowers, light signs, texts in the
space, chains, nightlights, etc. An environment is created in this way,
open to different readings which is consisted of "simple" everyday
objects which are elevated in "sacred importances" looking for a kind of
"spiritual self" in the objects that we are surrounded. Giving emphasis
to the notion that the object is the worldÐs human signature.
The objets trouves that Dimitra Vamiali is using like in her previous
works, are placed at the same time in the research of a realistic
documentation but also in the languageÐs reference in know works of art
of the past translated with the artistÐs signature.
Both the painting diptychs and the installation with vinyl-house allow
the immediate visual access although are keeping a complicated
interpretation.
Dimitra Vamiali had recently participated in the exhibitions Beauties,
Studio 22, Trento and Contemporary art in Amsterdam. Also, with Sofia
Vamiali, she curated the exhibition OPEN PLAN P3-the marathon with the
participation of important international artists in alphadelta and Artio
galleries as well as the project Looking For Heroes, which is presented
in the magazine The Breeder.