Michel Würthle
Démon de Midi
MichelWürthle est né en 1943 à Hallstatt (Autriche) et vit à Berlin et Syros (Grèce). De 1957 à 1963 il étudia à Cologne et Vienne, puis travailla comme représentant industriel. Depuis 1979 il est à la tête du "Paris Bar", le plus important bar d'artistes en succession du restaurant d'Oswald Wiener "Exil". En 1991 il reprit son travail artistique.En 1994 le livre d'artiste "Aufzeichnungen eines bewaffneten Schankprinzen" fut publié, édité par Martin Kippenberger.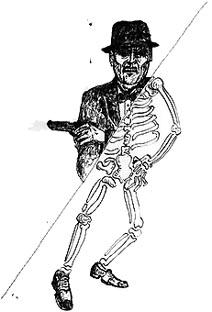 sans titre - 1995
encre de chine / papier - 21 x 29,7 cm
Il y aurait, dit-on, toutes sortes d'artistes. Ceux qui fondent des codes et ceux qui s'en servent, ceux qui vendent du vent et ceux qui inventent. Ceux qui fulgurent et ceux qui braisent, ceux qui persistent et ceux qui signent. Ceux qui réussissent vite et ceux qui grimpent à l'ancienneté. Ceux qui font trois petits tours et puis s'en vont, pour de bonnes ou de mauvaises raisons, ou les deux à la fois. Ceux qui précoces et ceux qui tard venus - et tous les autres, par ailleurs...
Michel Würthle ressortit au petit nombre d'artistes du démon de midi. Il s'en explique très bien: parvenu aux parages de la moitié de la vie, le dessin comme "besogne solitaire et douloureuse de la sublimation" lui procure une élégante échappatoire au risque de l'échec sexuel. Cette fable pudique sur le retrait de la sagesse relève autant de l'ironie que de l'humour noir qui sont les traits constants de ses affections.C'est une subtile manière de revenir en scène, sur l'autre scène générique du désir. L'expérience contraignante du dessin lui ouvre le théâtre permanent du fantasme.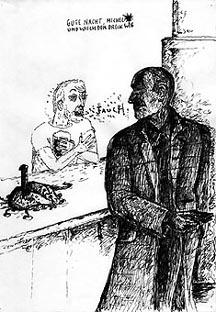 "Bonne nuit Michel"- 1995
encre de chine / papier - 21 x 29,7 cm

On pourrait aussi ranger M. Würthle parmi les artistes de bandes ou de hordes: il appartient évidemment à celle de Martin Kippenberger. Plus précisément, à la section berlinoise de ce dangereux gang. A ce titre, il prend la relève de toute une lignée de malfaiteurs de l'art moderne: ces chroniqueurs des coulisses glauques de la métropolis, tout de cruauté et de compassion, que furent par exemple Max Beckmann, Otto Dix ou George Grosz. A leur instar, M. Würthle continue de tracer au scalpel le journal de nos nuits blanches.
Christian Bernard, Directeur du Musée d'Art Moderne et Contemporain de Genève.
Ce texte est issu du catalogue "Appetiti", co-édité par le MAMCO (Genève), la galerie Bleich-Rossi (Graz) et la galerie Unlimited (Athènes).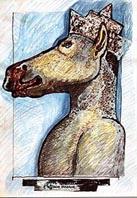 L'affaire Versace - 1997
encre et crayon / papier - 21 x 29,7 cm
Michel Würthle is born in 1943 in Hallstatt (Austria) and lives in Berlin and Syros (Greece).From 1957 until 1963 he studied in Cologne and Vienna, then worked as an industrial tradesman. Since 1979 he is leading the "Paris Bar", the most important artists' bar in succession of Oswald Wieners restaurant "Exil". In 1991 he took up his artistic work again. In 1994 the artist book called "Aufzeichnungen eines bewaffneten Schankprinzen" was published, edited by Martin Kippenberger.
They say there are all sorts of artists. There are those who make the rules and those who use them, those who sell hot air and those who invent it.Those who burn and those who smoulder, those who persist and those who sign. Those who find swift success and those who take forever. Those who have a quick look around and leave, with a good or a bad excuse, or both. Those who are early and those who are late - and all the others...
Michel Würthle is one of a small number of artists afflicted with the démon de midi. He explains this very well: as he comes into the vicinity of middle life, he finds that drawing as " the solitary and painful work for sublimation" gives him an elegant escape route from the risk of the sexual failure. This discreet fable on the retreat of wisdom is characteristic of both the irony and sick humour which are the ever-present trits of his affections. It is a subtle way of coming back into the limelight, on the other generical scene of desire. The constricting experience of drawing open up a continuous theater of phantasm for him.
Michel Würthle could also be considered with a group or team artists: he is obviously a member of Martin Kippenberger's. More precisely, the Berlin section of this dangerous gang. As such he is taking over from a whole line of modern art "wrongdoers": cruel and compassionate chroniclers of the murky backstage of metropolis, such as Max Beckmann, Otto Dix or George Grosz, for example. Like them, Michel Würthle's scalpelstrokes relentlessly keep the diary of our sleepless nights.
Christian Bernard, director of the Museum of Modern and Contemporary Art, Geneva.
Text issued from the catalogue "Appetiti", co-edited by the MAMCO (Geneva), the galleries Bleich-Rossi (Graz) and Unlimited (Athens).