Abracadabra
International contemporary Art

Abracadabra presents the work of sixteen international artists whose work reflects a new spirit in contemporary art. Often playful or surreal, their work deals in fantasy and transformation, taking ordinary things and making them extraordinary. Exciting, poetic, disturbing and extravagant, this new art aims to establish new lines of communication with its audience, and in many of the works the element of humour is used to support a more serious message.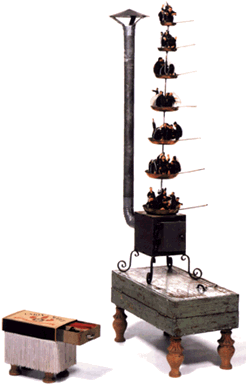 The stove (Het Kacheltje) 19992-3
M V Lier © The artist
As well as paintings, drawings and sculpture, Abracadabra includes text, video, sound, and installation works. A number of these involve audience participation. Unprecedentedly, the Tate's exhibition area will be opened up to create a single space, echoing the inclusive and collaborative spirit of the work. The audience will be invited to make discoveries and share the imaginary worlds of the artists, in a stimulating, surprising and convivial environment.
Although a number of the artists have exhibited internationally, few have been widely seen in this country. The artists include the Italian artist Maurizio Cattelan seen last year in the Venice Biennale; Patrick van Caeckenbergh, who refers in his own very personal to way the Belgian Surrealist tradition; Momoyo Torimitsu from Japan; American artist Kathy Schimert; Fernando Sanchez-Castillo from Spain; British artist Paul Noble, and the French artists Marie-Ange Guilleminot, Xavier Veilhan and Pierrick Sorin.
The exhibition is curated by Catherine Grenier, Curator Contemporary Exhibitions at the Centre Georges Pompidou in Paris, with Catherine Kinley, curator at the Tate Gallery.