For Art Now, 11 (27 August
- 9 November) Beat Streuli
will create a large scale
photographic work using
multiple slide projections.
The pictures are portraits of
people in the street (taken
anonymously or with their
permission), images of
buildings, construction sites
and general views of London
as a busy, vibrant city.
Through multiple viewpoints
and conscious looking, an
everyday theatre emerges.
The creation of the Art
Now room has been made
possible by generous dona-
tions from The Annenberg
Foundabon, Giles and
Sonia Coode-Adams, the
Paradina Trust and an
anonymous donor.


Programme supported by
The Patrons of New Art.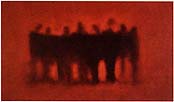 Michael Rovner
(b1957)
Merging 1997
© The artist
(detail)