The Art of Bloomsbury
Roger Fry, Vanessa Bell and Duncan Grant

The lives of the various artists, writers and intellectuals associated with Bloomsbury have been the subject of almost obsessive biographical attention in recent decades, but there has never been a comprehensive exhibition in Britain of Bloomsbury art. This celebratory new show, curated by Richard Shone, seeks to redress the balance, and will focus on the paintings of the Bloomsbury artists, together with their contribution to the Omega Workshops (1913-19), the firm they established for design and interior decoration.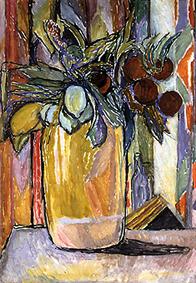 Vanessa Bell (1879 - 1961)
Oranges and Lemons 1914
Private collection
© 1961 Estate of Vanessa Bell,
Courtesy Henrietta Granett
Vanessa Bell (1879-1961), Duncan Grant (1885-1978) and Roger Fry (1866-1934), the three artists chiefly associated with Bloomsbury, played a prominent role both in the history of British art and design, and in introducing the work of Cezanne and the Post-Impressionists to this country. The exhibition will provide a new look at the visual side of the Bloomsbury movement, one of the key contributors to British cultural life this century. Concentrating on the period from c.1910 to 1925, it will show first how the Bloomsbury artists formed an important grouping within the intense and vibrant avant-garde in London before the First World War, when they produced some of the earliest pure abstract art. After the war the lyrical and sensuous aspects of their work come more strongly to the fore. Included are famous images of JM Keynes and Virginia Woolf, EM Forster and Lytton Strachey.
For many visitors this exhibition will be a revelation, introducing surprising and unfamiliar works, a good number of which have not been seen in this country for many years, or have rarely been lent from private collections in Britain. It will also include well-known paintings from the collections of the Tate Gallery, the National Portrait Gallery, and the Metropolitan Museum of Modern Art, New York. Sculptures, works on paper and Omega decorative objects will be shown in addition to the main body of paintings. Works by Bell, Fry and Grant will be complemented by those of their contemporaries, such as Henry Lamb, Walter Sickert, Dora Carrington and William Roberts, and the great continental moderns they admired, notably Picasso, Derain and Matisse.