Abetz / Drescher
Electric Ladyland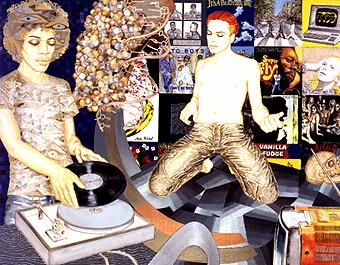 Electric Ladyland, Acryl auf Leinwand, 180 x 250 cm, 2000
Maike Abetz and Oliver Drescher had a fulminant start with their first solo show ,,Up against it" 1996/1997 in Berlin, where they arranged paintings, aquarels and covers of old records on an Op-Art-wallpaper. Several international shows in Germany, Austria and America followed. Now with their first solo show at arsFutura they have abandoned the environment in favour of an integration of this vocabulary into the complexity of their paintings.
Abetz I Dreschers' large paintings combine portraits of themselves, of popstars or friends with a room full of accessories. This type of portrait is known since the 16th century and had its first prime-time in the Renaissance. Next to the portrait on neutral background it has remained in the iconographic vocabulary of art until today. The cryptoportraits of Maike Abetz and Oliver Drescher actualize this theme: In their portrayal of the body the two artists focus on a self-defined form of corporeality: An-drogynity, posture (the pop-star-pose) or the ornamental arrangement of the body signify the disintegration of identities, the abolition of differences.
Background-structures such as mosaics, wave-like shapes and Op-art patterns bridge the different elements and are at the same time responsible for the dissolution of real space. A synaesthetic room is created whose medium appears to be music. The specific type of varnish and the rhythm of the paintings, contrived by way of distinguished areas or motives, are means to experience the time-space dimension of music on a visual level.
Abetz I Drescher, who both belong to the first TV-generation, reflect the technological development of the media and its corresponding iconography in 20th century arts. Their images and the lifestyle related to this development are bound to the technologies of their time: Records, television or analogical recording technologies like the tape-recorder appear as an epitaph of the analogous media. The digitalized availability of references on the other hand is the reason to empty the bodies, to dissolve in the dialogue of the work and to enhance "obiecs" with an aura during the process of painting. Painting is the means to resymbolize the world. ,,lt is proved that painting is able to sound" (Abetz/Drescher).
Excerpt from: Heike FöII, Kraftwerk Berlin, Aarhus Kunstmuseum, 28.August - 26. September 1999, S.49
Translation: Kathrin Herzog