Vision and Reality
- Conceptions of the 20th Century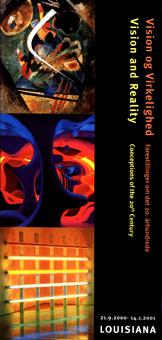 As the 20th century progressed, narrations of it multiplied: The Century of Cruelty, of Technological Revolution, of Modernism, of the Dissolution of the Nation State - to mention only a few. The Louisiana Museum has often focused on the interchange between tradition and new departures and has chosen to present its own story of the 20th century by tracing the influence of the avant-garde movements from their breakthrough in the early decades of the century until the recent past.
Vision and Reality - Conceptions of the 20th Century takes its point of departure in three of the most significant avant-garde movements: Russian Constructivism, Futurism and De Stijl. Each of these radically rethought fundamental phenomena such as space, movement, man and form: What is happening to space and spatial orientation? How can modern man bring order into a chaotic world? How do we deal with the mass phenomena of society and the new forms of experience created by modern technology? The preoccupation of the avant-garde movements with the life of modern man in a new world led to artistic redefinitions - new visual idioms, new concepts of form and colour - as well as new directions in architecture and design - concrete ways of adapting to this changing world.
Therefore Vision and Reality is not just an art exhibit. It also focuses on the dialogue between art and architecture, including sculptures, installations and interactive works by a number of contemporary artists. In this way, the exhibition attempts to summarize an epoch - but with the magical effect of a crystal breaking up light and casting it in many directions.
Vision and Reality - Conceptions of the 20th Century comprises more than one hundred works. Russian Constructivism, Futurism and De Stijl are presented in works by Malevich, Rodchenko, Lissitzky, Kandinsky, Boccioni, Balla, Mondrian and Schiemmer, among others, while perspectives on the 20th century are offered by such artists and architects as Larry Bell, James Turrell, Olafur Eliasson, Toyo Ito, Daniel Libeskind, Richard Roqers, Steven Holl, Mona Hatoum, Verner Panton, Jeffrey Shaw, Bruce Nauman, Dan Flavin and Zaha Hadid.
This exhibition is Louisiana' 5 contribution to Kulturbro 2000, a collaborative cultural project of the Oresund region.