Andy Warhol and His World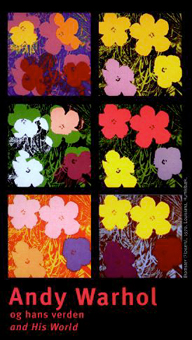 Flowers, 1970. Louisiana, Humlebaek.

Louisiana 's major spring exhibition - Andy Warhol and His World - focuses on one of the greatest artists of the 20th century. The exhibition will examine what inspired him and served to unleash his talent.
Andy Warhol became a cultural symbol at a very early point in his career. Not only was he in the radical forefront of Pop art, he was also a cult figure who -through the environment he created and the people he surrounded himself with -set the trend for a new lifestyle.
Andy Warhol had already become such a symbol when he attended the opening, in 1978, of an exhibition of his own works at Louisiana, where he spent much of the opening evening signing exhibition posters and copies of Interview, a celebrity magazine published by himself.
Shortly after Warhol's death in 1987, Louisiana mounted a major retrospective of his completed oeuvre. The exhibition showed Warhol as a very substantial artist, and up through the 1990s his work has been viewed with growing interest; it has become abundantly evident what a visionary artist he was.
Through photo documentation Andy Warhol and His World will offer insight into the environment that grew up around Warhol and his famous studio, The Factory, and around the Studio 54 nightclub in New York. These photographs were taken by Warhol himself and by many of the famous people surrounding him. The exhibition will furthermore present a number of Warhol icons. The starting point will be a 1986 self-portrait, surrounded by portraits of his friends Marilyn Monroe, Liz Taylor and Jacqueline Kennedy, as well as of his imaginary friends: the crowned queens.
Elvis Presley, Car Crashes, Disasters and Suicides - essential parts of the Warhol vocabulary - will be represented by a number of major works.
A separate gallery will be devoted to Warhol works belonging to Louisiana a considerable collection and to private Danish owners. In the last section of the exhibition, the close professional friendship of Warhol and Jean-Michel Basquiat will be illustrated by a number of their Collaborations.
As part of the exhibition, the Museum Cinema will be showing a cavalcade of Warhol films, on loan from - and selected by - the film department of the Museum of Modern Art, New York.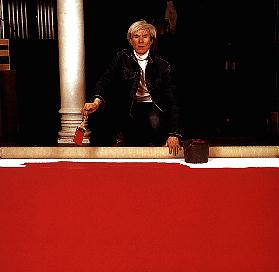 Andy Warhol, 1983. Photo: Curtis Knapp